St. Teresa's, Tullyherron win the Loughgilly Primary School's Shield
12th Jun 2015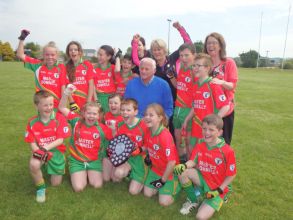 Friday 12th June began well with lovely sunshine and all four schools from the parish heading to St.Killians Football grounds to play for the first time in the Loughgilly Primary Schools Tournament 2015.
St. Teresa's P.S played within the Shield Competition, they were led by Team Captain Michael Kelly P7 and in the first match had a tight game against St. Malachy's Ballymoyer Team, but managed to win by 3 points.
Their second game was against St Laurence O'Tooles, Belleeks and in this game St. Teresa's displayed great superiority winning by 7 points. The final game they played against St. Brigid's Drumilly, this game guaranteed St. Teresa's place in the final.
St. Teresa's played St Laurence O'Tooles, Belleeks in the final and won well, demonstrating that they were the strongest team in this competition and certainly deserved their reward in the end.
The shield was presented to the team by Mr Kieran Shields of Tullyherron Farm Feeds who sponsored both the Loughgilly Cup and Shield. We would like to take this opportunity to thank Mr Kieran Shields for this very generous sponsorship.
Mr Eugene Reavey who refereed a number of games in the competition was quoted as saying, "Shelann Patton P6 displayed outstanding Gaelic football skills and was the player of the tournament".
Congratulations to St. Teresa's P.S Tullyherron Football Team 2015



St. Teresa's Primary School, 60 Tullyherron Rd, Armagh, Mountnorris, Armagh BT60 2UF | Tel: 028 3750 7397